So I survived three WHOLE days all by myself with Maddyx. I know, it sounds kind of silly..... but looking back on our first two weeks home, I just about DIED when the hubby had to leave for *one* night. Like literally. He walked in the door and I instantly broke down in tears and said "don't leave me again. it was too soon"....Hee..Hee... How things change!
But this time, we did just fine all by ourselves! We missed Daddy very much, of course. And someone did get a little whiny and cranky yesterday, on day three. And for the record, that someone was not me!
We went to the mall, we had lunch with a friend, we did some grocery shopping (all of which I typically choose to do alone. Obvious reasons, people), and we did some holiday stuff around the house. Like wrap presents and shop on the internet. Lol. I do need a re-do of the mall though. Seriously. Have you ever shopped with a 16 month old boy? It. Is. Not. Fun. At. All. There's something about putting that boy (in his stroller) in a great retail store, that just brings out the worst in him. Like loud annoying screeches, worst in him. And then I can feel my skin start to heat up and get red. In fear that everyone around is staring right us (I hate drawing any sort of attention to myself). So needless to say, I had to speed-shop through all of the stores only getting the absolute essentials. No browsing. At all. Yes, I need a re-do.
Oh, on another subject. I had to buy Maddyx a winter hat (we have a trip planned) and did you know that this kiddo needs a size 4-5yr old hat?!?! Seriously? He's 16 months. Good lord. He must have a really big brain inside that noggin. Just wait til you see the pics of him in it! Here's a hint.....it has some sort of crazy little dinosaur spikes on top. Oh yeah, adorable. ;-) Gotta love the Gap.
Here's what we tried on....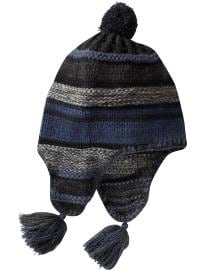 Tried this one, wasn't quite what we were looking for.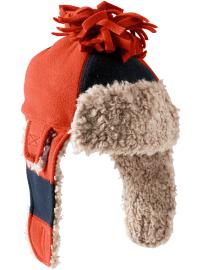 Loved this one. Actually, this was my favorite but they didn't have the very large size that we needed!
And then we found this little guy. Perfect fit!